In this article, I'll explain to you everything about Elementor Pro vs free no matter which version you're using or planning to develop your new website using a free version or a premium version also will dive into the prices of the different plans and take a look at the plan which you should choose based on your requirements. So, Let's talk about Elementor Pro vs free.
First, let me introduce myself in short, My name is Saqib and I'm a professional Web developer and offering my services on different freelancing platforms for the last 8 years and completed lots of projects related to theme development or customization. I've actually been using Elementor for the last 4-5 years now & which makes me able to deep dive into and write something about Elementor page builder.

SK
Let's talk about what is the Elementor and what it helps you develop your blog or website.
All About Elementor Pro vs free
Elementor is a page builder for WordPress that you can use to develop your own custom layout theme as per your requirements. (That's true that with Elementor you can extend your existing website to the next level or trendy look). These days most of the developers' first choice is the Elementor because it enables your customer to edit the section easily without having the knowledge of code which is quite a great help for developers not to make extra fields in the backend.
It has a visual drag and drops editor that allows you to create sections and add pre-made elements without coding or changing the screens. The free version has some limitations but with a pro, you can almost create everything which you can imagine. Lots of theme providers use this plugin to create sections and made it easy for the non-tech guys to just buy and make a little tweak by clicking on the edit with Elementor and boom you'll be able to access all the elements inside this page and freely move to other section or replace the text.
How to install Elementor in WordPress?
The process is simple if you want to go with the free version then you can access 40+ basic widgets and get that just need to go 'plugins' section go to 'Add new' and search for 'Elementor'. The free version is available in the WordPress repository. If you want to go further then I recommend you to go with the pro version because it has lots of features which you need to make an extra level website.
Elementor Installation —> Go to Plugins—>Click on Add new—>Search—>Elementor—>Activate
Step1: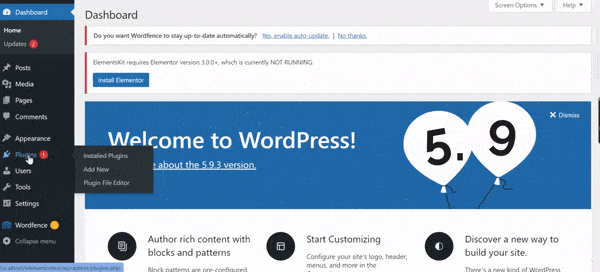 Step2: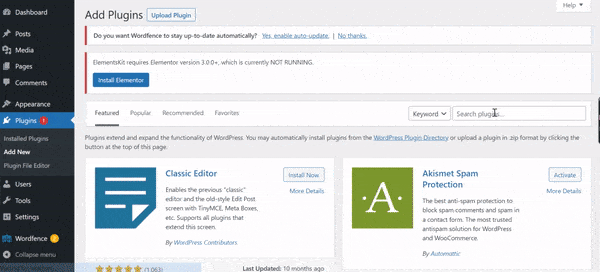 Step3: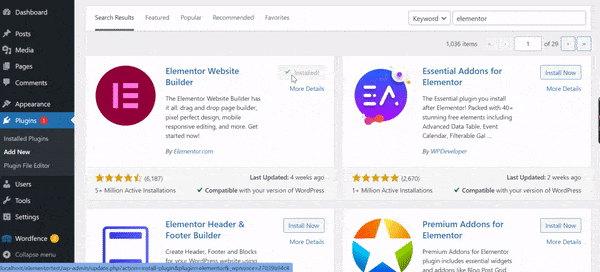 If you want to see the video Elementor Pro Vs Free Installation Process then click here.
Is Elementor worth getting?
Yes. In the pro version, you'll get lots of additional widgets which can help you make archive pages, blog pages, popup builders, Woocommerce builders, form builders, and a library of over 400+ pre-made templates that are designed by professionals and with one click you can import the full website. These just cost you $49/year for a single site website but if you've more websites then you can either go with an advanced, expert, studio, or agency plan.
If you're running a web development agency then I highly recommend you to go with the 'Agency' Plan it really amazing source for you to generate revenue by selling the websites.
Check the Latest Elementor Pro Pricing
If you have not started with Elementor pro or planning to upgrade your free version to pro then you can go to this link: Elementor Pro. They have a 30-days money-back guarantee and if you try it doesn't work for you then you'll get your money back without any hidden fees. So, Try the latest version of Elementor pro today and level up your website.
Now let's talk about some major features that you'll get after upgrading to Elementor pro.
Access to 'Theme builder' which is amazing and allows you to set the custom header, footer, sidebar bar, and archive page, to your entire website. I personally like this feature of Elementor pro.
Looping control is another great feature available in the Elementor premium version.
The custom block allows you to create a widget or section as per your requirement and fetch the data dynamically. You can also use the custom design block in the loop which is a great feature in Elementor pro.
Access the visual form builders in your pages is another great feature.
If you want to show popup anywhere on your website then you can easily create them from the popup section and Elementor pro give you a separate tab to create popups.
Count down the timer to invoke urgency in your customers and get more sales.
Social share icons on your website without any extra plugins. This option is in-built and available with the Elementor pro plan.
Access to Woocommerce widgets is another powerful feature available in Elementor pro and with this, you can customize the products archive page and single page sections.
These are the some which come to my mind but I believe it has many more…
Is Elementor free version enough?
Yes. It has both version free and premium versions. If you want to go one step ahead then I recommend you to go with a pro because it has much more as compared to the free version which comes with just simple widgets which is not much helpful to create a dynamic website.
Is Elementor pro lifetime?
No. It comes with a 1-year subscription plan. But if you want to get a lifetime for one website then you can talk with their customer support for the custom price but I don't think that they give you the Elementor pro for a lifetime. If you want to talk with their support then go with this link: Buy Elementor Pro
Is Elementor Pro for WordPress?
This is a plugin that you can use on your WordPress website to make customization easy.
Now let's talk about Elementor's Pros and Cons.
Elementor Pros and Cons
Now you are aware of how to use it and the extra features on each version now let's talk about Elementor's Pros and cons.
Elementor Pros
Pro1 – Easy to Use
Elementor makes it easy for the non-tech guy to make their website by itself. You don't need a knowledge of PHP, HTML, or CSS. Once you open this page editor then you can visually see all the changes by changing the screen and everything will be managed under one screen which is a great plus point for the Elementor plugin. In case you made a mistake then you don't need to worry about that because Elementor has an in-built revision method so, you can restore your page progress in the revision history. How amazing it is? Wow.
Pro2 – In-built Functionalities
Elementor in-built write lots of stuff for us making the developer's life easy in creating sections/widgets. In the free version, we have some limitations on the functions but with the pro – I can say everything is possible which you can imagine. Elementor has lots of third-party plugins which is another great tweak and with these plugins, we can access lots of widgets that are helpful while creating a theme. Some of them I mostly use on each of my single website names are Elementor Kit and Premium add-on for Elementor.
In short, now you don't need to waste money on purchasing the landing pages, again and again, you can create them by using this amazing plugin.
Pro3 – Easy in Customization
Elementor is very easy in customization because with this great plugin you don't need to worry about the media quires and CSS setup everything will be responsive at the end. Because all the widgets which are available inside the Elementor are responsive and fit on any of the screens so, don't worry about the CSS code anymore.
If you want to develop your website without hiring a developer then Elementor is a great tool for you.
Pro4 – Integration Capability
There are lots of plugins available in the WordPress repository which support the Elementor and are easy to integrate. If you are planning to use any marketing tool or SEO tool then don't worry it will be integrated easily without any conflicts.
Pro5- Responsive for all devices
As mentioned above Eementor all widgets are responsive so, you don't worry about the layout responsiveness. Elementor editor also enables you to customize the mobile and tablet section and if needed you can change the style of the sections for different screen resolutions.
Pro6- Price
The price is nothing if we compared the value of the plugin and it really worth it. If you want to go with the premium plan of Elementor pro then it will cost you $49/year. The pro plan eliminates most of your plugins if you are using the free Elementor pro. Buy Now
Elementor Cons
Elementor is no doubt a great plugin but everything has pros and cons. Let's talk, to be honest about the cons of Elementor which I observed during my developing journey.
Cons1 – Site Speed Issue
If you do not properly set the layout and made extra columns or spaces then it may cause you some performance issues. I'm added with lots of development communities and people hate Elementor because it drags your site speed down. But I don't believe that the speed slow isn't only the factor of plugin that may arise due to your hosting server-side.
If your website is properly optimized like images and etc then I'm sure it will not cause the site's performance slow.
In some, communities on Facebook people say that Gutenberg block editor is better than Elementor but if you ask me which one is better then my vote goes to Elementor because it has lots of features and third-party add-ons support. If the side speed issue then you can fix it by adding the cache plugins like wp-rocket or any other cache plugin and for the images optimization you can go with short pixels or smush which are just built to optimize the images.
Cons2- Major updates may cause some conflicts
When the big updates come up then the team highly recommends you take the backup first before the updates. Regular updates do not affect the website's performance. In my development journey, I've not faced any issues with significant or minor updates. Everything on my developed website working fine on updates.
But before updating I recommend you to follow a few best practices:
Always make sure that you have a backup of your website before making any updates.
Test it on stagging site before any plugin update and if its works then you can go ahead and update it on the production website.
You can use the rollback plugin to go to the previous version if any issues come due to updates.
Cons3 – Customer Support Delay
As you know Elementor has million of active installations so, so their support has lots of inquiries each day, so it takes some time to get back a reply from the support team but if you are a premium plan customer then you'll get a response quicker then free version. But in my career, I've not faced any issue with this plugin and if have then I'll go to Elementor communities and get my quires answer in a short period of time without consulting with the author of the plugin.
Elementor Pro with GPL License
Sometimes people are confused about whether they can use the plugin with a GPL license or not. My answer is 'yes' but only in case you are practicing the plugin or trying to modify the plugin functionally for testing purposes. Let's talk about a little bit 'What is GPL?'
What is GPL?
GPL is the free open-source software license and if you've installed the plugin with a GPL license then you've been asked to agree with the end-user license. The GPL was written by Richard Stallman in 1989 for his own GNU operating system and is currently this is managed by the FSF (Free software Foundation).
What GPL Mean for WordPress?
WordPress is the most popular CMS due to the GPL license because it is open-source and allows communities to participate and improve the core and functions. If you're a developer and interested to develop your own custom plugin and then WordPress has some rules of the coding and pre-made functions which helps you to make a good plugin. You just need to focus on the WordPress handbook and it helps you a lot while writing your custom plugin for WordPress.
If you need an Elementor Pro with a GPL license then you can check the below link. But again if you can afford then I recommend you to go with the original author's website so, they can get the benefits of their effort to make a great plugin for us.
which theme works best with elementor?
Most of the theme provider supports the Elementor plugin in some of them that I mostly use are the Astra, Ocean WP, Hello theme, etc. These are some of which come to my mind but I'm sure that there are lots of themes available in the market which works best with the Elementor plugin.
Now if you are starting a new business or want to switch the themes then I recommend you the two themes that I really like Astra and Ocean WP. These work very well with Elementor and have lots of pre-made templates available in the library which you can use it while developing your theme.
What is Elementor Hello Theme?
This is the theme that was developed by the Elementor team and it is extremely lightweight all the sections are designed using Elementor page builder. If you non-tech guy and want to develop your website then this is the easiest way ever to make your website with drag and drop widgets. If you're a beginner then it's the best theme to practice so, you can test it and integrate with other third-party plugins like woo commerce, form builder, etc.
Does elementor work with all themes?
Yes. It almost works with all the themes that followed the WordPress coding standards. Most people use this plugin that's why lots of developers preferred to give this plugin support to their theme.
Can I edit blog page with elementor?
Yes. You can edit but only in case, you've Elementor pro. You can design the archive page category page and everything with this plugin but with the free version, there is some limitation on it. If you want to write the blog post using this plugin then yes you can add text with this but I recommend you to go with a classic editor for the blog section for the static pages you can go ahead and use it freely Elementor Pro or Free. Woww
Can I display ads with the Elementor widget?
Yes. You can but with this method you've to add every time new 'HTML widget' and put the code inside if you've AdSense approval or other ads network then I highly recommend you to go with the Ads Manager plugin which allows you to place the ads as per your desire location and with this plugin, you can either control the repetition and more. SO try this plugin for the best experience to show ads.
Is Elementor free?
Yes. It's available in the WordPress repository for free but the Elementor free version comes with some limitations. If you want to develop your website's trendy look then Elementor pro is recommended.
Elementor Pro Price list: (as on 5/23/2022)
1 website license – $49/Year (Essential Plan)
25 websites license – $199/Year (Expert Plan)
100 websites license – $499/Year (Studio Plan)
1000 websites license – $999/Year (Agency Plan)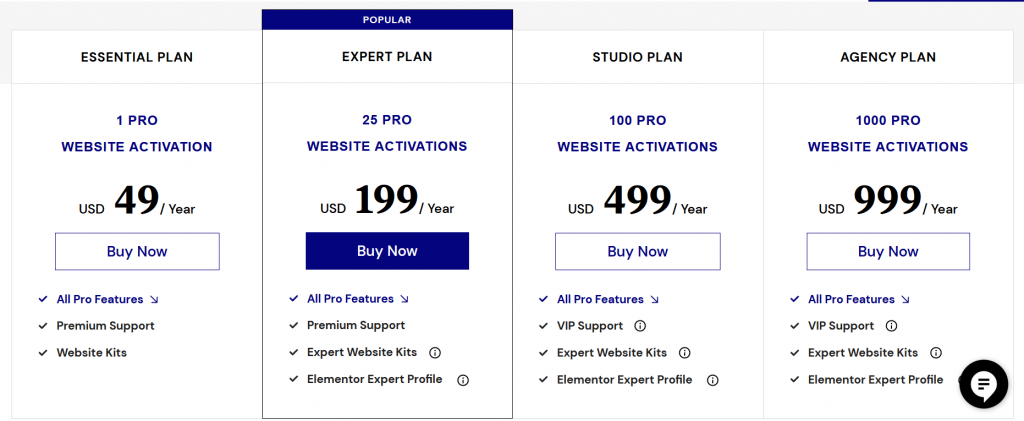 Is Elementor a theme or plugin?
Elementor is a plugin that allows you to make your website pages from the visual editor and make it easy to update the layout. It has a theme called 'Hello Theme'. If you're a beginner then you should try this free theme.
Is Elementor good for SEO?
Yes. Good but you've to use the third-party plugin with this page builder. I recommend you to go with Rank Math or Yoast plugin. These are working fine with this page builder and I'm using these for a long.
Is Elementor free with WordPress?
Yes. You can easily install it from the plugin repository for free but again that version comes with fewer features if you need more then you have to go with Elementor Pro which cost you $49/year for a single website.
Is Elementor a theme?
Elementor is a plugin but this team also develop the theme for us called ' Hello Theme'. If you're a beginner then you should start with this.
Is Elementor easy to use?
Yes. It makes your life easy and the best thing about that plugin is the drag and drop features which enable you to develop the layout easily without having knowledge of the code. Which is great!
Is Elementor page builder free?
Yes. The Starter version is free but it comes with limitations. If you want to develop something different then you should try its pro version which is a great add-on for your website.
Is Elementor good for WordPress?
Yes. It's developed for WordPress and the Elementor team put lots of effort into it to give us the best product in the form of Elementor PRO.
Is Elementor fast?
Yes. If it's optimized properly then it will not make your site slow. We have an example of the 'Hello Theme' which was developed by the Elementor team and it's loading faster as compared to other themes in the market. So, It depends on your expertise!
Is Elementor slow?
Some people talking about this topic in the Facebook communities but I don't agree with them because if you don't optimize it properly then it will cause the site to slow in loading. In short, It depends on your expertise level again.
Is Elementor good for beginners?
Yes. Absolutely a great product for beginners they can easily create a page using this magic plugin. I recommend newbies to go with Elementor.
Is Elementor responsive?
Yes. 100% responsive all the images are properly sized by the developer so, you don't need to worry about the CSS. But if you want to change the design for the mobile and tablet devices then Elementor page builder allows you in the editor to switch to the mobile version and change the design easily.
Why you should use Elementor?
Elementor is made for all types of people whether you are a tech guy or non-techy it works for both. If you have technical knowledge then you can do more than compared to a non-tech guy. The flexibility of the drag and drop feature made it easy to design the pages and has lots of pre-made widgets and templates which helps you to create a website in a shorter time.
What you can build with Elementor page builder?
As Elementor is a great tool that allows you to create any type of website whether it's a blog website, e-commerce, or portfolio website It works for all. Elementor page builder has two versions the first one is free which comes with limitations but if you buy a pro version then you can create any type of website layout with this stunning tool.
How to build your first page with Elementor page builder?
Due to the drag and drop feature, this tool makes it easy for all to build a page. NO coding skill is required for it
Step 1: Go to your WordPress dashboard
Step 2: Now click 'Pages' and click on "Add New"
Step 3: Click on Edit with Elementor to enter into the page builder.
Step4: Click on the '+' first and then the Goto sidebar widgets panel and drag the element which you want to use.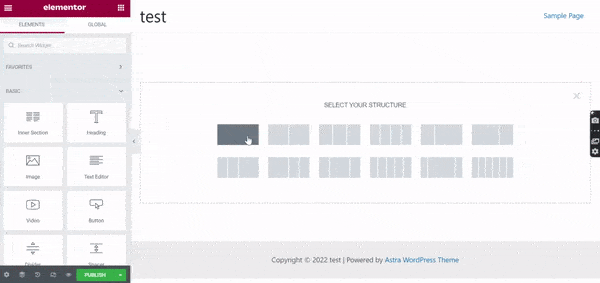 Elementor Pro Vs Free Installation Process
If you want to know how to install Elementor Pro vs free version watch the video below.
If you need a web developer to assist you more regarding the installation of Elementor pro or the free version on your website then you can contact us directly or fill out the inquiry form.
Elementor Pro Free
Conclusion about Elementor Pro vs free
Let's wrap up the whole thing about Elementor Pro vs free: I hope you've enjoyed reading this article, you can say it is a review or a comparison of Elementor Pro vs free. In short, Elementor is a WordPress plugin that was built to design a custom website using drag and drop widgets. Its user-friendly interface makes the easy for the non-tech guys to understand the layout structure and develop their own website without hiring a professional developer.
This is an amazing tool for all to learn and work in a different way as compared to traditional methods. If you're a newbie then I recommend to go with Elementor and start developing your own website first & after practicing you'll be able to develop your own theme by getting the pro extension – Elementor Pro. If you are interested in Elementor Pro then you can buy it with this link: https://trk.elementor.com/skf. If you've any questions or suggestions please comment below. Thanks, Enjoy!