[pvcp_1]
2 ways to check hard drive size or storage capacity in your computer:
Method 1 to check hard drive:
1- Click on Start Menu and type "cmd" and run it as administrator. It will show you the below screen.

2- Type "diskpart" and hit enter. Sometime it will ask you admin access control popup, If it show then you simple click on yes and proceed the change.
The below cmd screen will show you after the authentication:

3- Now type "list disk" and press enter, you will see the size of installed hard drive in your pc or laptop.

Now moving to the alternate method to find out the capacity of the hard drive in your pc or laptop.
Method 2 to check hard drive:
1- Right-click on your desktop main menu and click the "Manage" from the dropdown list. Snapshot cited below: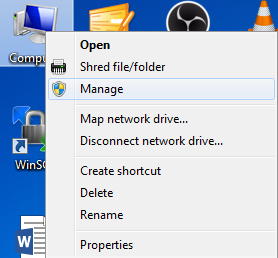 After selecting manage from the dropdown the below panel will open called as computer management(Local).

2- Go to storage—–>Disk Management. Once you choose the disk management it will indicate the actual disk size which you have installed in your pc or laptop.

Short video to do all of process:
That's all about how to check the disk size in your personal computer or laptops.