[pvcp_1]
18 Free Udemey Course
If you want to grow your skills with some of the basic fundamental concepts of WordPress, then Udemey is the right choice for you. Here is the list of 18 free udemey courses which Udemey offer so far:
How To Build A Website Using WordPress – AMAZING
Learn How to MAKE a WordPress Website – PROFESSIONAL
Crie Agora O Seu Ecommerce!
How to Create a Listing or Directory Website with WordPress
Backups WordPress – Como Fazer Backups no WordPress [2019]
Faça um Site WordPress Com Elementor em 60 minutos!! 2018
Curso de diseño web con WordPress, crea tu blog desde cero
Ajax en WordPress para desarrolladores web [Avanzado]
WordPress pentru incepatori: cum sa creezi un site de la 0
WordPress – 5 formas de hacer una migración exitosa
How To Build And Make A WordPress Website From Scratch 2020
Create Your First WordPress Site in Under an Hour
Tienda en línea con WordPress y WooCommerce – Guía Completa
WordPress – Curso Como Criar Site com Design Moderno
Crea una página web sin programar con WordPress y Divi
Make WordPress Hosting Easy with Plesk on Amazon Lightsail
WordPress Website erstellen für Anfänger
Como Instalar o WordPress em Localhost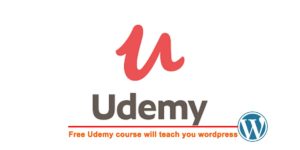 This Udemey course is free for now and millions of students have availed this opportunity to seek the basic concept of WordPress and start a career in online freelancing market places.
This course comes with an amazing intro of paid and free plugin and grabbing the designed elements which are the fundamental core of building a website page.
What are you waiting for? If you're a freelancer and want to earn money then WordPress is a modern trending skill and you can become an expert by taking this udemey free online course.